Winners of the Michael O'Mara Books Personal Choice Award at the Global Canvas Schools Art Competition Finals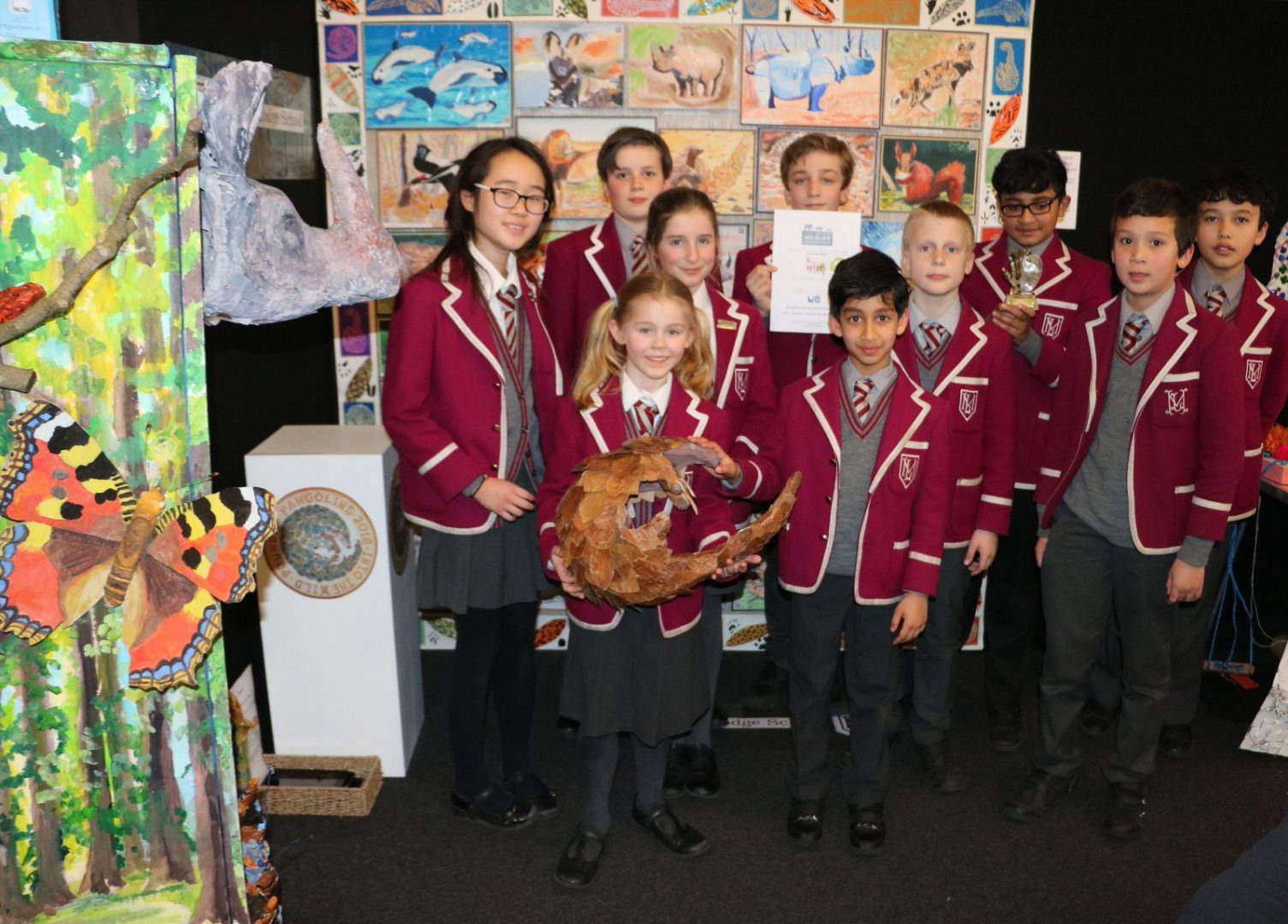 The finals of the David Shepherd Global Schools Art Competition – 'Into The Wild' were held at the Natural History Museum on Thursday March 15th.   4,500 entries were received from 13 countries. Of this total, 15 schools were then shortlisted for the final exhibition.
The event was sponsored by Michael O'Mara books, and their Personal Choice school winner was Milbourne Lodge.   A group of 10 pupils helped build the exhibition at the museum and they accepted the trophy on behalf of the whole school.
This year's whole school topic in Art and IT is 'Idioms'. We wanted to interpret 'Into the Wild' as an idiom to highlight the perils facing the World's most endangered animal species.
Having researched lists of animals from critically endangered to threatened, each pupil chose one species to focus their work on. Every pupil learnt why their specific animal was endangered. There were a wide variety of reasons but when the pupils put their ideas together they noticed that habitat loss and environment change affected animals hugely.
Milbourne's submission combines the pupils' creativity in Art and IT to illustrate the importance of protecting individual natural habitats for all endangered species. No animal is depicted without illustrating their own natural environment.
In IT, the pupils 3D scanned the sculptures they had created in Art.  These models were used as part of an AR (Augmented Reality) project which pupils designed and built.  The finished AR featured scrollable image galleries, animated 3D Models and personalised 'Selfie Filters'. Using QR Codes to trigger each piece, pupils recorded short audio descriptions of their own artwork. Qlone supported the 3D scans and Blippar the AR.
This digital layer was combined with the artwork to form a collaborative and interactive display.
As well as the individual pieces displayed on our wall space and around our habitat box, which depicts 4 varied environments from around the world, viewers are also invited to step 'Into the Wild Blue Yonder' to experience a virtual adventure using sound, light and plenty of imagination!
Milbourne Lodge - 'Into the Wild' Global Canvas Schools Art Competition submission
Published on: 16th March 2018