Bebras Computational Thinking Challenge 2018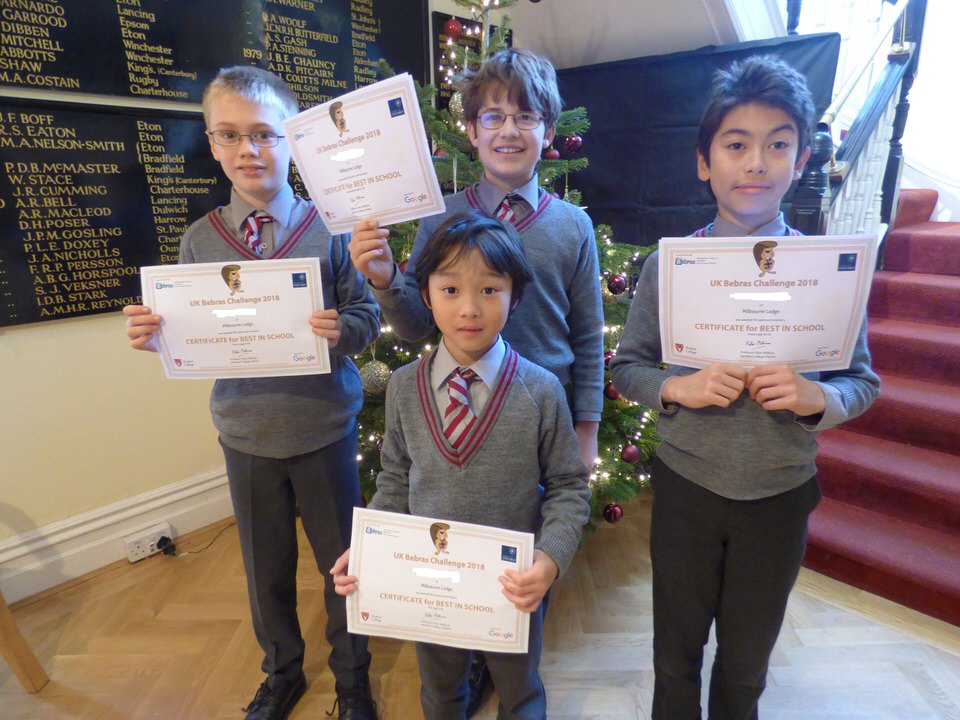 Bebras is an international computational thinking competition for schools. As our IT modules this term focus on coding and programming, the timing could not have been better. The Bebras Challenges are a set of short problems delivered online. They are based on situations that Computer Scientists meet and enjoy solving. The tasks require logical thinking. The aim is to solve as many as you can in the allotted time.
This is the first time Milbourne Lodge has entered the competition and all pupils in the Prep School tackled the 40 minute online challenge during their IT lessons.
Encouraging participation is key to ensure pupils enjoy the competition, but top performing students are additionally be recognised. More than 200,000 pupils in the UK participated this year.
Roughly 30% of the Prep School achieved Certificates of Distinction.
There were four 'Best in School' Certificates awarded – one for each age group  they are:
Nathan Liang  (6-8 Years)
Theo Groves (8-10 Years)
Rentaro Clarke (10-12 Years)
Henry Franke (12 – 14 Years)
Additionally, pupils in the older age groups who achieved scores in the top 10% of their age group nationally have been invited to participate in an online challenge which is the TCS Oxford Computing Challenge to be held in early March 2019.
U6/M6  (12 – 14 Years)
Peter Hurst
Sebastian Foster
Jeong Lee
Henry Franke
Jack Pothecary
L6  (10 – 12 Years)
Freddie Groves
Rhys Gregory
Rentaro Clarke
Ben Ankers
William Shi
Tom Brocklebank
Max Yu
Published on: 26th November 2018